The Personal Development, Health and Physical Education K-6 Syllabus is based on a broad notion of health. It encompasses all aspects of an individual's wellbeing, inclusive of social, mental, physical and spiritual health.
The PDH&PE K-6 Syllabus is concerned with developing in students the knowledge and understanding, skills, values and attitudes that will enable them to adopt and lead healthy and fulfilling lives. It is within this curriculum framework that the major health priorities of physical activity and fitness, child protection and drug education, are managed. At St Cecilia's we treat sensitive and controversial issues in a manner reflective of our Catholic ethos.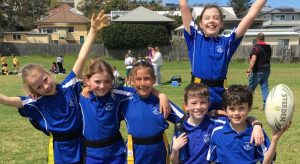 Skills
• Communicating
• Decision Making
• Interacting
• Moving
• Problem Solving
Knowledge and Understanding
• Active Lifestyle
• Dance
• Games and Sports
• Growth and Development
• Gymnastics
• Interpersonal Relationships
• Personal Health Choices
• Safe Living
We employ a specialist Physical Education teacher who works with each class for one lesson per week. In addition, Year 3-6 participate in the school sporting program which operates on Thursday.
Organised Sports
Organised sport throughout the year consists of:
* Soccer, Cross Country
* Netball, AFL, Rugby Eagle Tag
* Cricket, Tennis
* Swimming, Athletics