At St Cecilia's we offer the LEAP into Learning Playgroup program whereby our school invites pre-schoolers along with their families for an hour-long play session on school grounds once or twice a term.
These sessions are aimed at pre-schoolers, their parents and grandparents, it is run by our School Principal, is free of charge and open to all.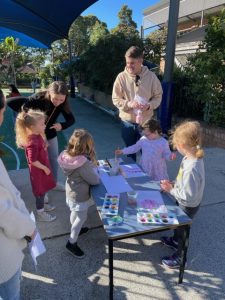 There are many benefits for your child attending these playgroup sessions, especially when it is possibly their future school:
Our school provides a safe environment for social interaction, an opportunity for children to play and learn with their peers.
A perfect opportunity to meet other local families with similar community values.
The opportunity to build relationships with local and /or future school friends.
Our playgroup is held in our school hall or in the playground. Your young ones will get to see "big" school in action, you may see the students pass by with their teachers on the way to library or sport lessons.  It gives the children a sense of what is to come when they start school, it gives them that feeling of familiarity and safety.
If you would like to learn more about the St Cecilia's LEAP into learning Playgroup, please register here to add your family to the list.  This will ensure you receive regular communication of updates, dates and times.
Thank you, we look forward to meeting you and your family.
Register now